Golf Player Card _________________________________________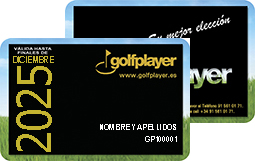 Golf Player Card was created in 1995. In all these years of existence it has gone through different stages while still maintaining its original spirit as it is specially designed for golf enthusiasts allowing them to enjoy their favorite sport at its best.

Golf Player Card services are always updated on the web. You can see them through the menu on the left of this page and are summarized as follows:
Great discounts on green fees in almost 300 Golf Courses in Spain, Portugal and Andorra.
Special prices and exclusive benefits in Hotels in Spain, Portugal and other countries.
Discounts in Golf Shops.
Discounts in Rent a Car.
And more services that will be added from now on ...

Golf Player Card has annual validity and is marketed directly from this site for a yearly fee of 54.- € (VAT included).

To order the Golf Player Card click on the link below, fill in your details and enter on our secure payment gateway where you can make the payment of the Card.

You will receive the card in your e-mail address and also by WhatsApp if you have given us your mobile in your Personal Data.